TRUSTED BY LEADING FINANCIAL INSTITUTIONS




The Smarter Way to Outsource
VISABILITY
Monitor the status of all outsourced services in real time to mitigate operational risk.
Normally, when you outsource, your vendor controls what they want you to see and when they want you to see it. OpCon restores visibility, giving your team a "single pane of glass" to monitor mission-critical processes.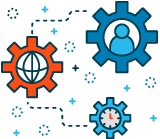 CONTROL
Optimize the process for your needs, not your vendor's.
OpCon allows you to monitor and adapt the outsourcing process so you can ensure continuity for members and customers, and minimize the risk involved when you outsource your critical services.
HORSEPOWER
Automate applications that link to the core, freeing up internal IT resources.
Extend the benefits of workload automation and orchestration to other critical applications that integrate with core processing to eliminate errors, reduce costs and redeploy your IT staff on more strategic initiatives.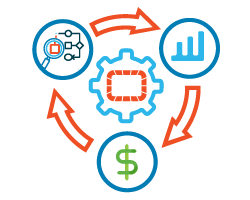 FEATURES
OpCon is the industry's easiest workload automation
and orchestration solution for financial institutions.
Enterprise Scalability without the Complexity
OpCon delivers a broad set of advanced features that are easy to set up and use, allowing you to scale automation across many complex jobs easily today and as your needs evolve.
Easy Automation with Minimal Coding Required
With OpCon, most automation tasks can be done without writing scripts and its self-service function enables non-IT users to trigger automated processes with one click, reducing the load on IT.
Deep Expertise with Credit Unions and Banks
OpCon has deep integration with the leading financial industry systems.
In addition, SMA has years of experience helping credit unions and banks automate and orchestrate business-critical operations.
OpCon is the smart way to operate. Just ask our clients.
"The time-saving and work-life balance it brings is incredibly valuable. Without this tool, we'd have to increase staffing significantly in this area."
-Molly Schmidt, VP of IT, Veridian Credit Union
"JHA chose SMA Technologies as our solution provider because their OpCon software had a very strong track record of speed and reliability."
-Brad Lane, Senior Director of Data Center Ops, JHA
If you're thinking about outsourcing, you need a trusted partner in your corner.
As your trusted partner, SMA Technologies works for you, not your outsourcing vendor. Our leadership team has a deep understanding of the credit union and bank IT environment because it's in our DNA, beginning with our CEO who is the former CIO of a leading credit union.
Fast, risk-free deployment. We get you running in weeks, not months.

Complimentary Training. Our goal is to enable you, so we include free basic training for your entire staff, as often as you need.
24/7 Support. We're here for your and your team anytime you need us.
Transparent pricing. No hidden fees or surprises - everything is included in our pricing.
Proven track record. We've migrated hundreds of financial institutions with 100% success rate.
"

It's monitoring if a job fails and we get notifications immediately so that we can react, rather than having somebody sitting here watching the machine run and worry, "Did I miss something? Did that job fail?" It's actually monitoring all of those jobs, and letting us know if they succeeded or failed.

"
Outsource intelligently. Outsource with OpCon.